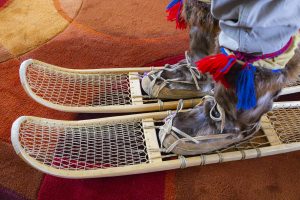 My initial idea for a final project is a photo series of handmade traditional snowshoes.
Photos would be in color.  Photos would include single shots, HDR, and Panorama photos.
The photos being considered are the following:
Overview photo of snowshoes and kkaakene boots overlooking a trail
Close-up of handmade Snowshoes:

Hardwood birch frame with latticework webbing and moose skin bindings
Kkaakene boots with a close-up of moose skin bindings

2 HDR photos of one or two people dressed for and walking a trail
Panorama stitched photos of Labyrinth trail on backyard pond
For the panorama, I was considering doing 3 HDR photos for each section (as an "experiment") merged and then stitch the series.