Hello my name is Jordan Laker-Morris.  I am a freshman at UAF.  I have taken a few photography classes in high school and I was a photographer for the yearbook team my junior and senior year.  I have always enjoyed taking photos and I'm excited to see what this class has to offer and to improve my photography skills.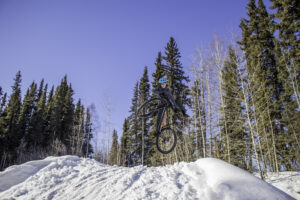 I chose this photo because I liked how it's borderline over exposed in spots but the contrast between the biker (Luke) and the trees is dark enough that the picture doesn't feel totally blown out.  I am normally a big fan of the rule of thirds and I appreciate how placing the focus of your picture in the correct spot in your frame can make or break an image. However I did feel that this particular photo worked better with Luke dead center.
(ISO 100, 18mm, f/4.0, 1,1600 sec).