Be Brave, Just Push the Button…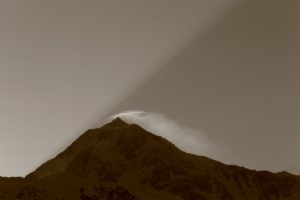 Denali's South Peak at Sunset from the Don Sheldon Mountain House.
First Assignment
Introduce yourself, attach (or embed) a photo that's caught your eye recently inside of the Blackboard Discussion board for this unit. Please share why you think it works (or doesn't work) as an image. Please also share about your background (in photography), why you are taking this class at this time, and any other relevant information you'd like to share.
See Due Dates inside of Blackboard
Additional Notes
For the first week I simply want you to become familiar with your camera and lens, it's operations, and how to upload photographs for me to see, others in the class to see, and for me to provide you with a critique and grade.  
Since this is the third teaching of my first online class, for this new course, we may still encounter some early issues with interface.  This assignment will also let us work through those problems so our communication and image flow goes as smoothly as possible this semester.
Cruise textbook Chapters 1-4 for more complete information on cameras, lenses, f/stops (aperture), shutter speeds, etc., for an idea where we'll be heading over the next few weeks.   Look closely at example photographs.   You will also need to be familiar with your camera's manual, and have a look at the website links I list on basic camera operation.
We will begin using the camera is Manual mode next week.   For this first assignment place your mode on P (Program), and your ISO on Auto.   Use Auto Focus or Manual focus, whichever you are comfortable with.   And shoot away.   Let the creative side of your brain guide you.  
We'll soon have specific assignments on the shutter, the aperture, etc., but for now I just want you to experiment with the camera and it's basic handling.   The subject matter doesn't matter, but shoot a variety of photos.  
Feedback to Charles: cwmason@alaska.edu